If your loved one has passed away and you are looking for an alternative to a somber funeral service, a celebration of life memorial might just be the best choice for you and your family. If you're not entirely sure what a celebration of life is, we can help.
A celebration of life memorial service is a gathering, typically held at a reception venue, where the family members and friends of the person who has passed away, celebrate and pay tribute to their life. In contrast to a traditional funeral service, a celebration memorial is typically an uplifting occasion that includes joyful stories, videos or photo slideshows that capture the deceased past, along with a meal that is served.
What's the Difference Between a Celebration of Life Memorial and a Traditional Funeral Service?
If you're not familiar with celebration of life memorial services, it can be a bit confusing as to what the differences are between a traditional funeral service and a celebration memorial. The confusion makes perfect sense seeing how traditional funerals have been in place for ages.
The emergence of the celebration memorial service has been a breath of fresh air for some who are grieving the loss of their loved one. With all this in mind, let's go over a few key differences between these two memorial service types:
Celebration of Life Memorial
A celebration of life service is sought out by those who wish to have an uplifting remembrance service in honor of their loved one who has passed away. It consists of a more casual gathering that can take place in a home, but is normally hosted by a celebration of life venue. These types of venues provide memorial banquet halls, as well as outdoor spaces that can allow for small and large gatherings.
Meals are traditionally served, or an appetizer affair is planned for those who want to take a simpler approach. The meal is a time when sharing fond memories of the past happen, humorous stories are told, and laughter is heard. A celebration of life remembrance service is often personalized to their loved one's personality, or to match the family's preferences. The body of the deceased is not present during the service, but it's common to place their ashes on a decorative table. There are no set rules for a celebration of life, it's all about remembering your loved one in a lighthearted, supportive, and joyous way.
Traditional Funeral Service
A traditional funeral service presents a completely different atmosphere than a celebration of life memorial. It takes on a more serious and somber tone. Laughter is not typically heard, and joyous stories of the past are not common. Funeral attendees typically wear more formal clothing in darker colors such as black, gray, and dark blue. The most common places to hold a funeral service would be in a cemetery or funeral home.
One aspect of a traditional funeral that causes it to be a serious and mournful event, is the fact that the body of the deceased is generally present in a casket. This, in itself, makes it difficult to experience feelings other than sadness. The memorial normally has a strict schedule that is organized by a funeral director or minister.
Although it's true that certain aspects and emotional experiences of a funeral can result in a sad event, it does not make it less desirable than a celebration service to some. This is true because funeral services are conducted based on family preferences, religious values, and other reasons. Additionally, these types of services have been around for generations, so they are familiar to most.
What Do You Do at a Celebration of Life Remembrance Service?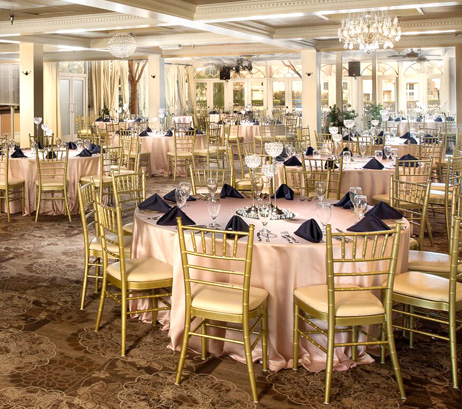 We touched on some of the activities that take place during a celebration of life memorial service, but would like to talk in detail on a few of the basics. There are many activities you can plan for a service such as this – from having live music to passing out keepsakes or mementos that will hold a special place in your guest's heart, there are many options. A good starting place includes traditional celebration of life activities, like the following:
A Memorial Service Meal: Serving appetizers, lunch, or dinner at an after funeral celebration service is much more than just a chance to have a lovely meal; it's more about mingling with your supportive guests. It provides an opportunity for everyone to relax and have a bit to eat while conversing about great memories of the past. Lake Memorials in the Desert Shores area of Summerlin knows just how important this portion of the memorial service is, and the value it can bring to the gathering as a whole. This is why we offer a full choice of meal preparations; from appetizers to a memorial lunch or dinner. Meals held during a celebration of life service are typically customizable.
Eulogy & Shared Stories of the Past: Typically, while the guests enjoy their meal and company, a family member or close friend will give a eulogy or lighthearted speech. A podium and mic are provided, and set up beforehand by the venue staff. This is also a time when friends, coworkers, distant relatives, and the like, are invited up to share memories, funny stories, and touching moments they had with the person who has passed away.
Video or Slideshow Presentation: Also, during the meal, a video or other presentation can be held. This can be both uplifting and sad at the same time. While humorous, charming, fun, and beautiful photos or videos of the deceased are shown, which can certainly bring a smile to the face of many, it is also difficult for some to see their loved one again, so soon after their passing. But all and all, this is a lovely memorial element to present to your guests at a celebration of life service. It not only honors the memory of your loved one, but also brings tears of joy and happiness to you and your guest's eyes.
Personalized Elements: In contrast to a traditional funeral service, there are more opportunities to personalize your memorial service with elements or activities that you feel would be a nice touch. It can include having live music, display items that belonged to your loved one, and the like. This may include their military memorabilia, scrapbooks that they created over the years, photomontages, and just about anything you can think of that would be a meaningful way to remember the person who has passed away. Get more ideas on how to personalize your memorial with the decor you choose.
How Much Does a Post Funeral Celebration Cost?
The price to have a venue host a celebration of life can vary depending upon the location and the number of people attending, as well as other factors. If a remembrance celebration is held in a reception hall, it's typically an all inclusive price, which can bring the price down significantly.
Prices can range from $2,299 to $6,299. The cost to host this type of memorial service can also vary based on additions such as adding guests with a per price fee, as well as upgrading with flowers to decorate your space, and more.
We offer multiple packages to fit every budget and your preferences. Here are a few pricing examples to give you a better idea of the cost when choosing a package plan with Lake Memorials in the Desert Shores Area of Summerlin:
Las Vegas Celebration of Life Appetizer Memorial Package Prices:
Las Vegas Celebration of Life Buffet Memorial Package Prices:
Adding flowers to a memorial service can make your celebration of life even more joyful for you and your guests. There are many options to choose from, and the price is well worth it when it comes to dressing up an event as important as this. Here are a few examples of pricing for typical flowers placed during celebration of life services at Lake Memorials in Las Vegas:
Lake Memorials Can Host Your Las Vegas Memorial Service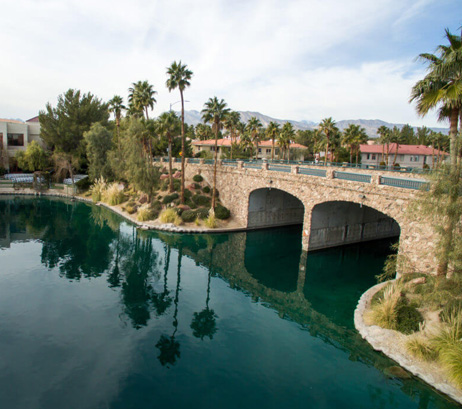 Our Las Vegas celebration memorial venue has what it takes to host your beautiful remembrance service. We can provide you with everything that's needed to celebrate a life well lived, along with the opportunity to plan a stress free tribute.
All our Las Vegas celebration memorial packages include the following:
A specified amount of time in our Las Vegas memorial venue spaces.
The choice of an appetizer or buffet meal.
We set up tables and chairs before your celebration begins.
Your choice of table linen colors.
Access to a Las Vegas memorial service coordinator.
Video projector and screen for presenting memories of your loved one.
We completely set up and break down your Summerlin memorial service.
Lake Memorials has an onsite florist you can consult with.
Our after funeral memorial venue comes highly recommended by those living within the Las Vegas area. View our testimonials to see how much others love our level of service and thoughtfulness.
Lake Memorials' Commonly Asked Questions
Running a successful memorial service venue near downtown Las Vegas has given us the opportunity to answer many questions for our guests. We understand that this can be a confusing time for the family and friends of someone who has recently passed away. This can make planning the celebration memorial service a bit confusing or stressful during this difficult time. Because of this, we would like to provide a few of our most common memorial venue questions:
1. Does Lake Memorials host 1-year passing anniversary gatherings?
Lake Memorials in Las Vegas specializes in hosting these types of events, whether it's the 1-year passing anniversary or 10th year. It can be a wonderful time to gather with those closest to the deceased because it provides support, as well as more closure, and a chance to reminisce about a life well lived. If your loved one's anniversary is approaching, it may be helpful to read over our article that covers 1- year passing anniversary memorials ideas.
2. What do you wear to a celebration memorial?
This is one of our top questions because over the years, before celebration of life events were in existence, there was one general type of service – a traditional funeral. The typical attire for a funeral is conservative, dark clothing. This is the type of attire that is in everyone's minds when they know they have to plan out what they will wear.
In reality, a celebration of life has no rules for what you should wear. If you are one of the main family members, you may choose to dress more conservatively, but if you choose to wear bright, joyful colors, that is also 100 percent acceptable. As for the guests, the same rule applies.
3. Do I bring my loved one's ashes to a celebration of life?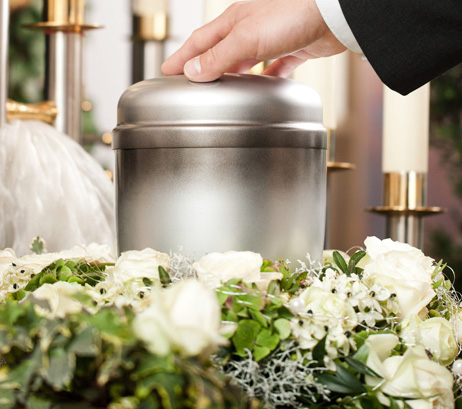 We have found that those who plan a celebration memorial at our Las Vegas venue, often display their loved one's ashes.
It's common for the ashes to be displayed on decorative tables that are adorned by flowers, photographs of the deceased, as well as memorabilia from their life.
Urns come in many shapes, sizes, and colors, and can be personalized. Displaying your family member or friend's urn during a celebration of life can be comforting to some because it can make certain family members or guests feel as if they are there celebrating with them.
It's a touching element to add to your celebration of life tribute service.
We Can Help You Plan Your Las Vegas Celebration of Life Remembrance Service
If after reading all about what a celebration of life really is, you feel this is the right type of memorial for your family member or friend who has passed away; we would love to help you plan your event. Our professional staff can take care of all the details – from start to finish, so you don't have to. We can give you a tour of our memorial venue so you can see if our banquet halls or beautiful outdoor spaces will fit your needs. Feel free to contact our Las Vegas memorial venue online, or simply contact us via phone (702) 762-2812. We look forward to assisting you in any way possible.